Accounts and Financial Information
Information regarding the Town Councils finances can be found below.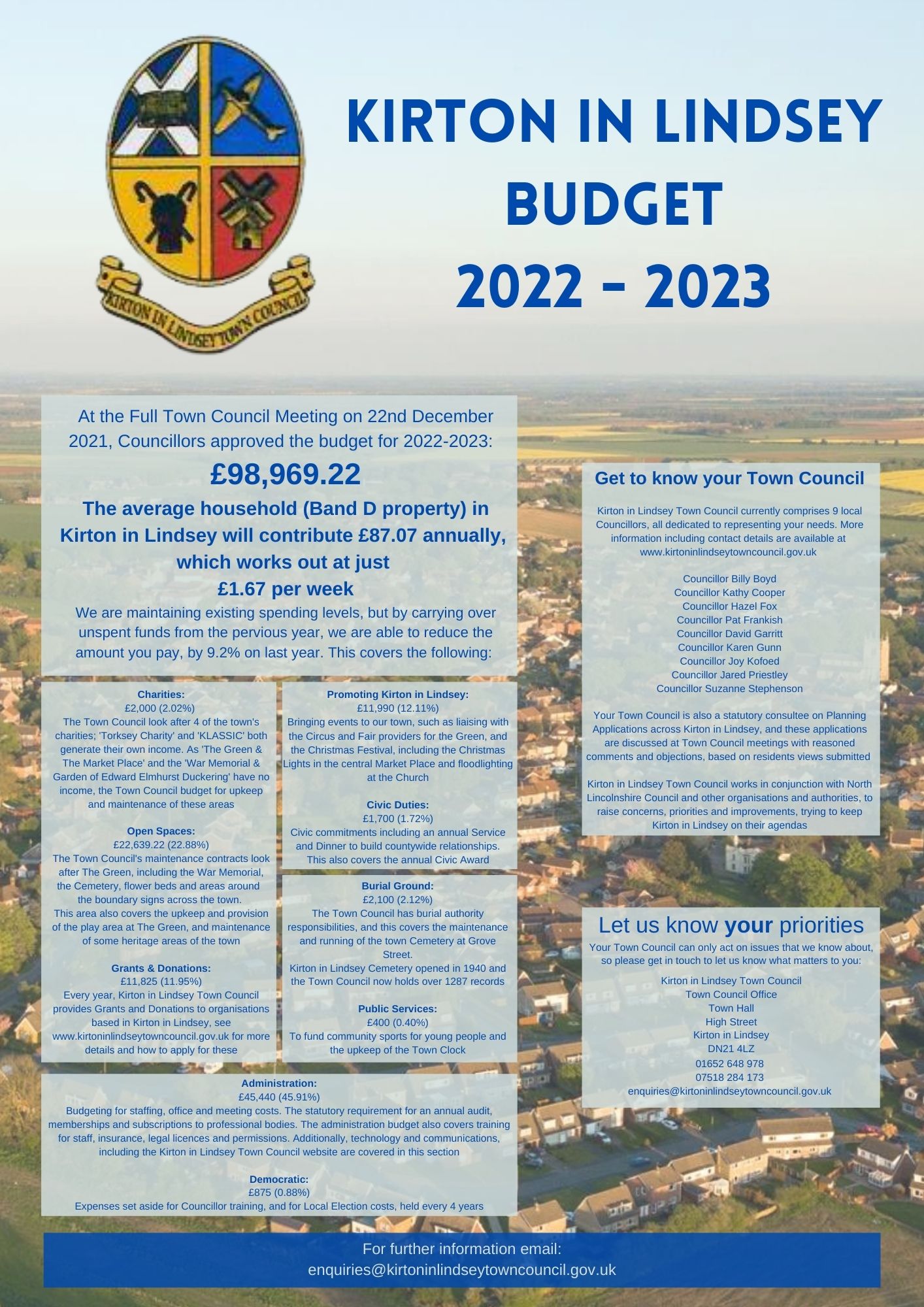 The Town Council recognise the importance of communicating information to the town with an online presence as well as distribution of information in hard copy and displayed on noticeboards. Please let us know of information you want to see displayed and how best to communicate with you.
2023-24
Approved budget 2023-2024 at 21/12/2022
Budget 2023-2024 summary version
2022-23
Approved budget 2022-2023 at 22/12/2021
Budget 2022-2023 summary version
Finance Reports to date (Apr-Dec 2022)
Interim Internal Audit Report October 2022
2021-22
Approved budget 2021-2022 at 27/01/2021
Annual Governance & Accountability Return 2021-2022
Notice of Public Rights and Publication of Unaudited Annual Governance & Accountability Return 2021-2022
Unaudited Annual Governance & Accountability Return 2021-2022
Budget 2021-2022 summary version
Final Internal Audit Report 2021-2022
Finance Reports (Apr 2021 - Mar 2022)
Interim Internal Audit Report November 2021
2020-21
Approved budget 2020-2021 at 22/01/2020
Annual Governance & Accountability Return 2020-2021
Notice of Public Rights and Publication of Unaudited Annual Governance & Accountability Return 2020-2021
Unaudited Annual Governance & Accountability Return 2020-2021
Budget 2020-2021 summary version
Final Internal Audit Report 2020-2021
Finance Reports (Apr 2020-Mar 2021)
Interim Internal Audit Report November 2020
2019-20
Approved budget 2019-2020 at 23/01/2019
Notice of Conclusion of Audit 2020
Annual Governance and Accountability Return for Year Ended 31st March 2020
Notice of Public Rights and Publication of Unaudited Annual Governance & Accountability Return 2019-2020
(includes a Summary of Your Rights)
Annual Return (Coronavirus Act 2020) Addendum
Unaudited Annual Governance and Accountability Return for year ended 31st March 2020
Budget 2019-2020 summary version
Finance Reports (Apr 19-Mar 20)
Interim Internal Audit Report October 2019
2018-19
Notice of Conclusion of Audit 2019
Annual Governance and Accountability Return for year ended 31 March 2019
Interim Internal Audit Report December 2018
2017-18
Notice of Conclusion of Audit 2018
Annual Return to 31st March 2018
Reserves Statement May 2018 (revised August 2018)
2016-17
Annual Return to 31st March 2017
Reserves Statement to 1st April 2017
Quarterly out-turn, 4th Quarter 2016-17
Quarterly out-turn, 3rd Quarter 2016-17
Quarterly out-turn, 2nd Quarter 2016-17
Quarterly out-turn, 1st Quarter 2016-17
2015-16
Summary of rights 2015-16 page 1
Summary of rights 2015-16 page 2
Annual Return to 31st March 2016
Year End Accounts 2015-16 (Summary 1)
Year End Accounts 2015-16 (Summary 2)
Year End Accounts 2015-16 (detailed breakdown)
Reserves report year end 2015-16
Quarterly out-turn, 4th quarter 2015-16
Quarterly out-turn, 3rd quarter 2015-16
Quarterly out-turn, 2nd quarter 2015-16
Quarterly out-turn, 1st quarter 2015-16
2014-15
Year End Accounts 2014-15 (Summary)
Year End Accounts 2014-15 (detailed breakdown)
Quarterly report - 1st Quarter 2014-15
Quarterly report - second quarter 2014-15
2013-14