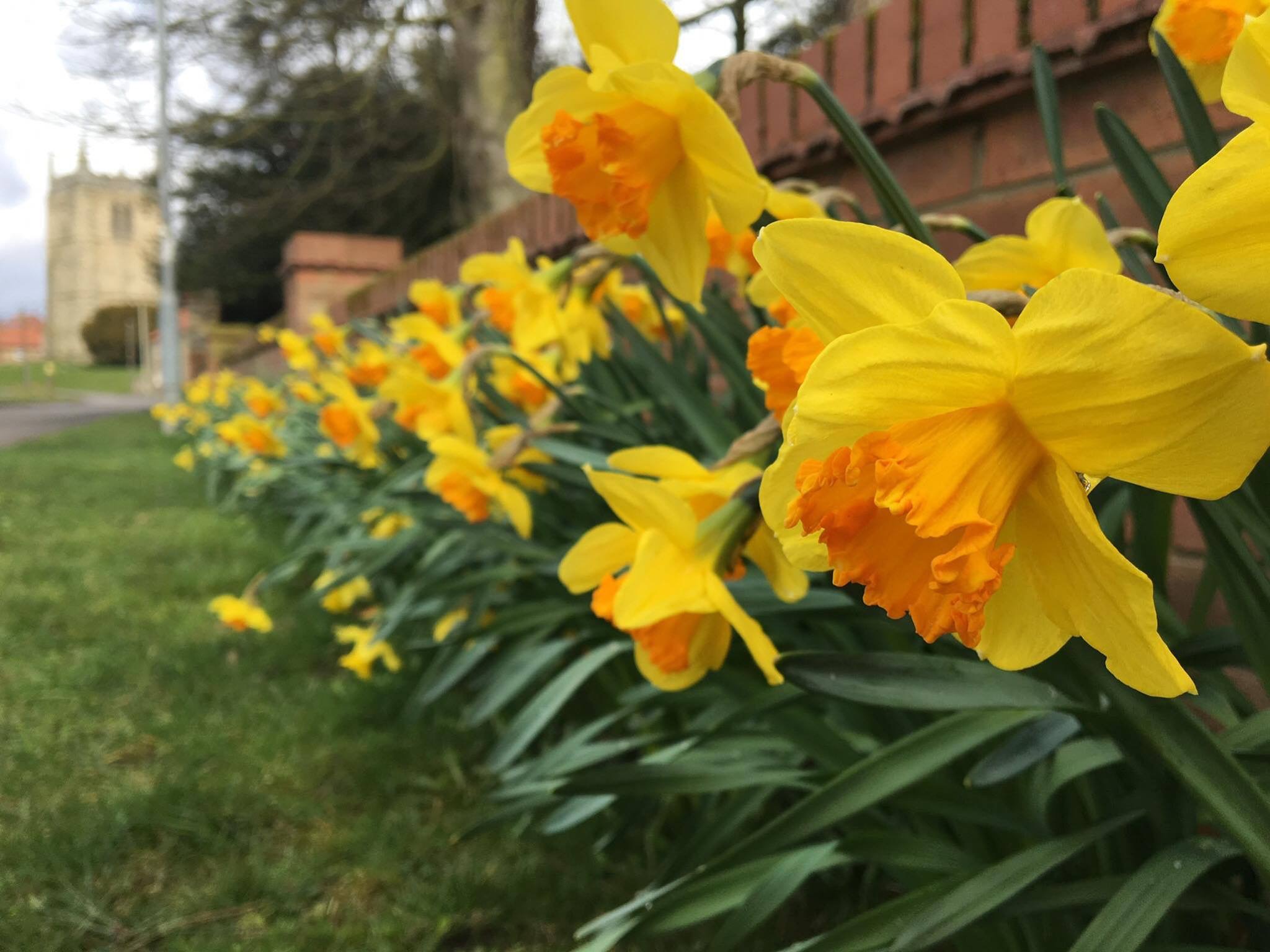 Daffodils at Cornwall Street, Kirton in Lindsey.
Coronavirus information sources:
Please click here for the official, updated NHS advice regarding Coronavirus (Covid-19).
For the latest Government information regarding this issue, please click here.
Town Council Office - Opening hours
Please note that public opening hours of the Town Council office are Tuesdays and Thursday between 12noon to 4pm.
The Clerk is also available by phone or email for any enquiries or concerns and at other times by appointment.
Tel: 01652 648978
Tel: 07518 284173
Find Us On:
Contact Details
Town Clerk, Burial Clerk & Responsible Financial Officer - Neil Taylor-Matson
Assistant Clerk - Cheri Morton
The Town Council Office, Town Hall, High Street, Kirton in Lindsey, DN21 4LZ
///yummy.envisage.kinks www.what3words.com
Clerk's contact details
Telephone: 01652 648978 Mobile: 07518 284173
Clerk's e-mail: enquiries@kirtoninlindseytowncouncil.gov.uk
Assistant Clerk's contact details
Mobile: 07936 936961
Assistant Clerk's email: assistantclerk@kirtoninlindseytowncouncil.gov.uk
Next Meetings
The Schedule of Meetings 2022-2023 can be viewed here.
Full Council Meetings
The next Monthly Meeting of Kirton in Lindsey Town Council will be held on Wednesday 26th April 2023 at 7pm in the Town Hall, High Street. The Agenda and supporting documentation will be published on the Meetings - Minutes and Agendas page from Thursday 20th April.
Committees
The next Promoting Kirton Committee Meeting will be held at the Town Hall on Monday 17th April 2023 at 6:30pm. The Agenda is now published on the Meetings - Minutes and Agendas Page.
The next General Purposes Committee Meeting will be held at the Town Hall on Monday 17th April 2023 at 7:30pm. The Agenda is now published on the Meetings - Minutes and Agendas Page.

The next Personnel and Disciplinary Committee Meeting will be held on Thursday 30th March 2023 at 1:30pm in the Town Hall. The Agenda is now published on the Meetings - Minutes and Agendas Page.

News and information
Unnamed Paths Survey
Kirton in Lindsey Town Council is keen to retain the existing network of paths in the town, as if they go unrecorded they could in time be lost. If you wish to see the paths protected, please consider providing support and get in touch to let us know which paths you use and would like to see officially recorded. This can only be achieved with support from you and other residents! You can access the online version of the survey by going to: https://www.surveymonkey.co.uk/r/H6FKBWF or you can fill in the version in the current edition of Kirton First magazine. Let us know your thoughts! This survey closes Sunday 30th April 2023
Winter weather - Salt bins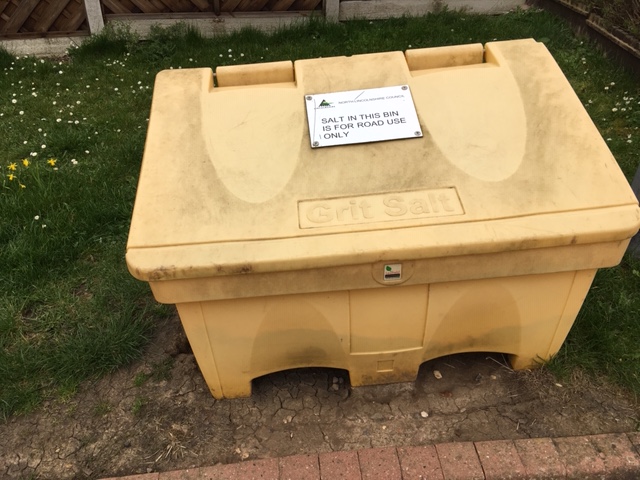 Using a salt bin or notice that it's running low?
If a salt bin is in need of refilling, contact North Lincolnshire Council with the exact location on Tel: 01724 297000, via Email: customerservice@northlincs.gov.uk or on the Website:
https://northlincs-self.achieveservice.com/
Since last year, North Lincolnshire Council have provided a salt which is the by-product of sugar beet production, which is more efficient and so not as much salt is now needed as previously to break down ice.
Yellow salt bins are priority bins, sited by North Lincolnshire Council and will always be stocked first, green salt bins are additional bins requested by the Town Council which North Lincolnshire Council will refill after the priority yellow bins.
Let's work together to keep Kirton in Lindsey safe and moving through the winter.
Outside Gym Equipment for KLASSIC Park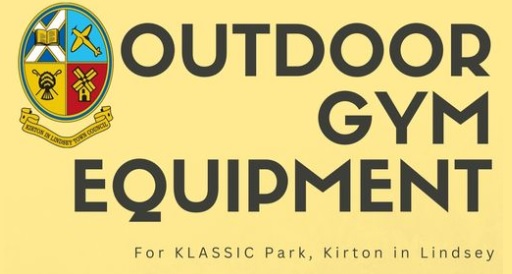 We asked you to take part in our short survey about outside gym equipment for KLASSIC Park. We are informed that funding is available from North Lincolnshire Council for this project, but we needed to move quickly to secure the funding and opened public consultation online and in person at the Town Hall with the survey closing on 4th March 2023.
196 responses were received, with 58.96% of the responses preferring the proposal by Streetscape.
Library revised opening hours and volunteer opportunities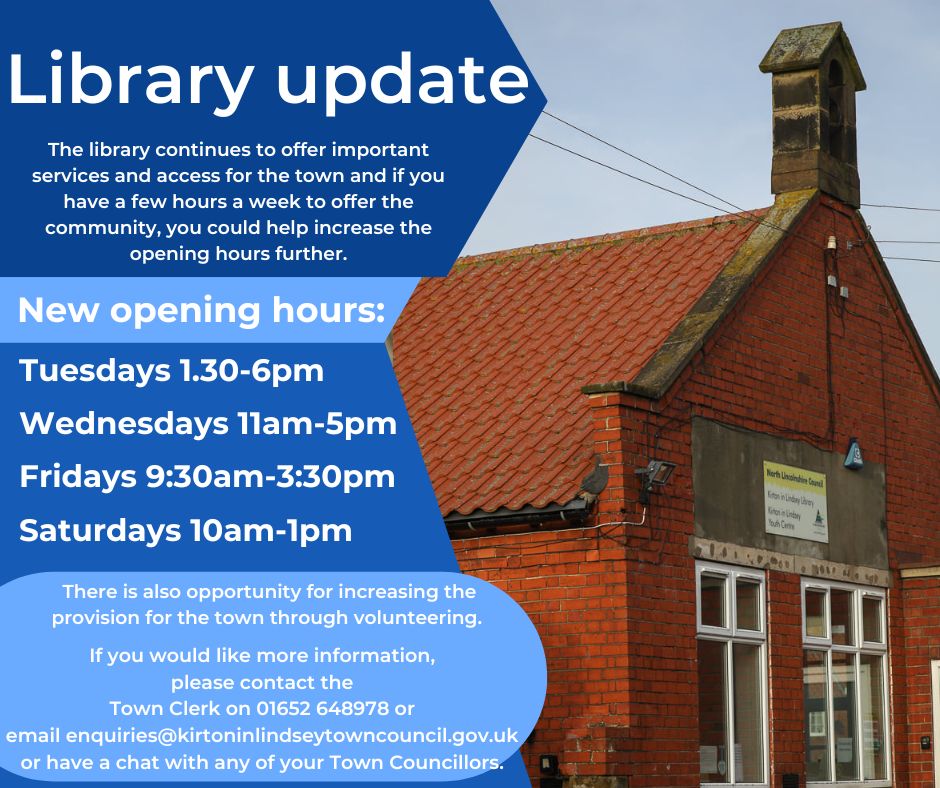 Kirton in Lindsey Annual Scarecrow Trail - the survey results!
We asked you to complete a short survey online or from the pages of Kirton First to tell us your thoughts on the annual scarecrow trail. 41 responses were received, 36 online and 5 from Kirton First. Thanks to each of you who filled in the survey, and we are pleased to present the details of the findings here.
Scarecrow Trail survey results
Community Renewal Project "Connecting Kirton" report.
Between June 2021 and June 2022 North Lincolnshire Council Community Champions Pot funded a £25,000 feasibility study focused on community renewal for Kirton in Lindsey. The project focused on mapping and understanding the different groups within the town and how they are represented, establishing a community development framework for the town and using the information gathered to begin some activities and create a plan to continue to improve the life and wellbeing of residents by planning for ongoing activity and funding.
The feasibility study report was provided to North Lincolnshire Council and Kirton in Lindsey Town Council in early July 2022 and a presentation of the report took place at the Town Council's Full Council Meeting held on 28th September 2022.
The report can be viewed by selecting here Kirton in Lindsey Feasibility Study.
Feedback recieved from residents will now be collated together for the Council to review and applications made for funding for a Community Co-Ordinator role in the town.
Newsletter

A brief update on news and activities from the Town Council
January 2023 December 2022 November 2022 October 2022
September 2022 July 2022 June 2022 May 2022
April 2022 March 2022 February 2022 January 2022
December 2021 November 2021 October 2021 September 2021
August 2021 July 2021 June 2021 May 2021
April 2021 March 2021 February 2021 January 2021

December 2020 November 2020 October 2020 September 2020
August 2020 July 2020 June 2020 May 2020
April 2020 March 2020 February 2020 January 2020
December 2019 November 2019 October 2019