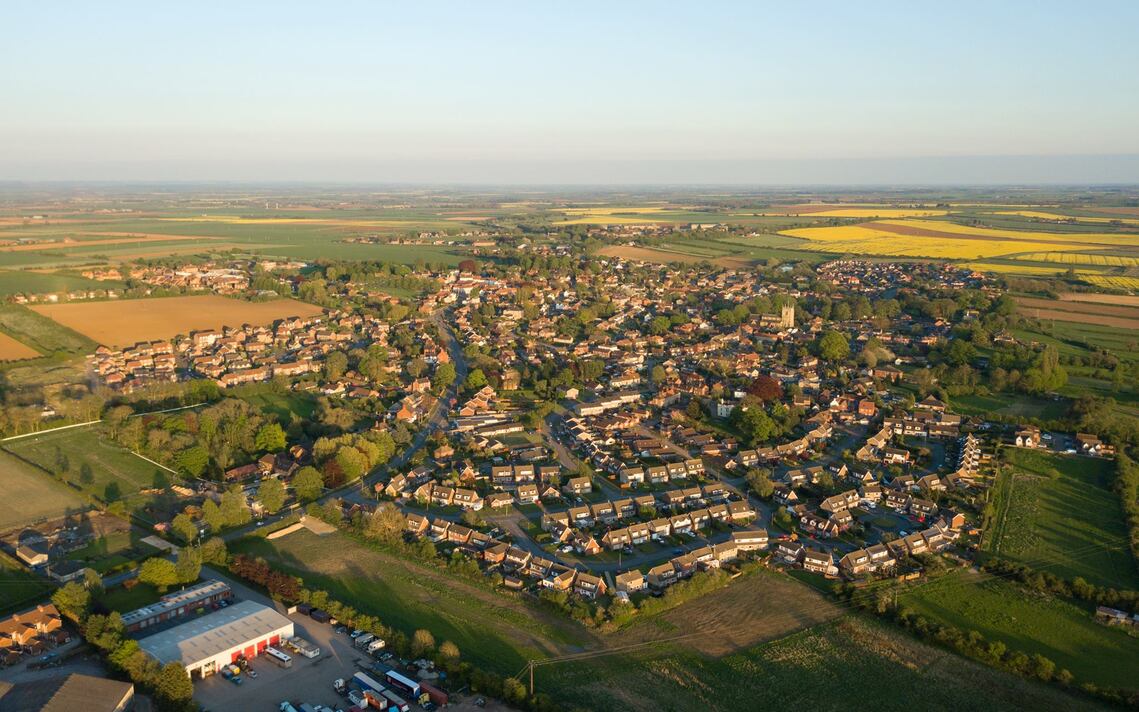 Aerial view over Kirton in Lindsey, courtesy of the Will Selby Project. "Elevate your Perspective" www.willselbyproject.co.uk
CORONAVIRUS (COVID-19)
Please click here for the official, updated NHS advice regarding Coronavirus (Covid-19).
For the latest Government information regarding this issue, please click here.
Kirton-in-Lindsey Town Council is currently focusing on reaching out to everyone in the community, to reassure, advise and provide points of contact for help, assistance or a even just a chat.
The Town Council is taking advice from the local association (ERNLLCA) as well as the National Association of Local Councils (NALC) - particularly around business continuity in unprecedented times.
Kirton-in-Lindsey Town Council will continue to keep you up to date via our website and social media as usual. Meeting schedules are currently suspended until further notice and statutory and urgent matters continue to be dealt with but by devolved authority at this time.
The play area on the Green was reopened following government guidance on Saturday 4th July. If you are looking to let children under your care to use the play equipment, please read the full announcement and guidance below. This will ensure that you are happy to do so, but if you have any concerns do not allow them to access the equipment. The signage in place to remind you of this guidance should be respected and not interfered with.
The cemetery at Grove Street remains open and it is asked that social distancing in line with the current government guidance is respected and adhered to.
If you have any queries, concerns or you are in need of help, guidance or know someone else who is, please do not hesitate to get in touch.
Telephone:
01652 648978 (office)
07518 284173
For non-urgent matters please continue to email enquiries@kirtoninlindseytowncouncil.gov.uk
ANNOUNCEMENT 04/07/2020
Play area on the Green - re-opening

Following the careful review of the guidance published by the government on 26th June 2020, the Town Council has re-opened play area on the Green from Saturday 4th July.
If you have any plans to allow children under your care to use the play equipment, please read all of the information in full, which is also available on the the Kirton in Lindsey Town Council Facebook page.
It is kept as brief as possible. If you have any concerns, it is strongly advised that you do not allow children under your care to use the play equipment.
The government's guidance is detailed and requires a number of factors to be considered and dealt with, along with compliance with existing statutory health and safety legislation.
The Town Council arranged for all the equipment in the play area to be deep cleaned and sanitised on Friday 3rd July and for an inspection of the play equipment to take place following this deep clean. Now that these works were successfully completed and health and safety legislation met, the go ahead for the re-opening is given.
Signage is in place around the play area indicating the guidance, advice and requesting that any users follow the guidance to protect themselves and others. It is also asked that signage is respected and not damaged or removed. Again, If you have any concerns, it is strongly advised that you do not allow children under your care to use the play equipment.
Kirton in Lindsey Town Council recognises that playgrounds are a valuable community asset that provide children with a stimulating and tactile experience to exercise and learn through play. Making them available provides important physical, social, emotional and cognitive development opportunities for children. It is therefore keen to re-establish this provision in a safe and controlled manner.
Within the government guidance it is noted that measures will be dependent on the circumstances, layout and design of play areas and this includes taking account of factors including size, equipment, and how it is organised, operated, and managed. Processes are required to protect the users of the equipment and the staff responsible for its maintenance and cleaning.
The Town Council is responsible for assessing and managing the risk of potential COVID-19 transmission as relevant to the users of the equipment, such as children, parents, guardians and carers, as well as any staff hired or tasked with the maintenance or cleaning of equipment. Owners must ensure that the risk assessment for the playground addresses the risks of COVID-19, using this guidance to inform decisions and control measures. A risk assessment is not about creating excessive paperwork, but rather about identifying sensible measures to control risk. If the owner has fewer than 5 workers, they do not have to write anything down as part of the risk assessment.
Owners need to consider the unique make up of their playground/outdoor gym when conducting a risk assessment and putting in place measures to enable the effective management of the playground to minimise COVID-19 transmission risk. Failure to complete a risk assessment which takes account of COVID-19, or completing a risk assessment but failing to put in place sufficient measures to manage the risk of COVID-19, could constitute a breach of health and safety law.
Kirton in Lindsey Town Council is aware that in addition to preparations to ensure they are COVID-19 Secure, there will be general maintenance requirements. The Town Council must therefore ensure playground is safe to use and that risks from damaged or defective equipment are addressed before opening.
All owners of playgrounds should consider how to put in place measures to support social distancing such as signs to remind users of the need for and adherence to social distancing in accordance with existing government guidance. In implementing measures, owners and operators should acknowledge that adults and children with certain conditions will find social distancing difficult.
It is recognised that adherence to social distancing between individuals and households can be particularly difficult in a playground setting. This will mean that other ways of minimising transmission risk should also be considered and communicated to the parents, guardians and carers, who should remain aware of the residual risk.
If an enclosed area, owners should identify an advisory limit on the maximum number of users able to use a playground and use signs to communicate this. The maximum number of people (children and adults) within the fenced area of the play area is current 8 to allow social distancing. On the equipment outside the fenced area this is reduced to one user at a time, with the only exception of the multi-play climber which can have two users at a time. Signed is displayed near each piece of equipment and on the gates into the fenced area to indicate these limits.
Potential measures include:
signs to communicate maximum number of users at one time
request those using the play area to only have 1 family member accompanying a child
limiting the available number of seats on equipment or numbers of swings available to promote social distancing, including for parents, carers or guardians who might push children on swings for example
setting a time limit and using signs to communicate this to users, parents, guardians or carers
Cleaning and hygiene
Scientific advice suggests that the virus can survive for up to several days on some hard surfaces, particularly when indoors. These risks are reduced when outdoors, where surfaces may be subject to UV light and/or rain. This guidance applies to outdoor playgrounds but the virus could survive long enough on frequently used/touched outdoor surfaces to facilitate transmission.
Owners are advised to manage any potential risk, cleaning high traffic touch points frequently.
entry and exit points such as gates
seating areas such as benches and picnic tables
refuse areas/bins
Owners should encourage effective sanitation by users, parents, guardians and carers.
Consideration should be given to:
using signs and posters:
to promote cleaning of equipment by users, parents, guardians and carers, particularly here there are clear touch points such as swing rockers, see saws, climbing bars etc
encouraging parents to bring hand sanitiser gel or wipes to clean their children's hands
to encourage hand hygiene with including washing/sanitising hands more often than usual, for 20 seconds using soap and water or approved gel and foam sanitiser, particularly at the beginning and end of play
to advise users (or parents of users) not to touch their faces, and to cough or sneeze into a tissue or arm when a tissue is not available
to remind adults and children not to put their mouths on equipment or their hands in their mouths
to promote and remind users, parents, guardians and carers of the need for social distancing
when communicating safety messages owners should ensure they are able to reach those with hearing or vision impairments. Consideration should also be given on how to assist those with disabilities with complying with the changes.
Face coverings
If possible, a face covering should be worn in enclosed public spaces where social distancing isn't possible and where the public may come into contact with people they do not normally meet. This is most relevant for periods indoors in crowded areas. Face coverings are optional for all those with disabilities or health conditions for whom it is problematic, on public transport and elsewhere.
Current government guidance states that face coverings should not be used by children under the age of 3 or those who may find it difficult to manage them correctly. Parents should be aware that wearing a face covering in a playground setting could pose an additional safety risk and should use their judgement on whether their children wear a face covering.
It is important to use face coverings properly and that signs promote their use appropriately and make it clear users should wash their hands before putting them on and taking them off.
Additional measures and communicating with parents
Additional measures that can minimise the risk COVID-19 transmission in playgrounds focus on promoting responsible behaviour by children, parents, carers and guardians.
For example, owners should consider putting up signs to make clear to users, parents, guardians and carers that:
consumption of food or drink on play equipment or in the playground area is banned
parents, guardians or carers should dispose of all litter including any used protective wear such as face coverings or gloves properly in litter bins, taking it home where a bin is not provided. Disposable face coverings and gloves cannot be recycled.
Owners should provide clear information to parents to set clear expectations about how children should behave when using playgrounds during COVID-19. This may be through one or more of: signs adjacent to the playground, online or through leafletting.
Owners may wish to consider reminding parents of the owner's legal obligations towards the playground users such as signs stating that allowing children to use playground equipment is done at their own risk where appropriate.
The full government guidance can be viewed here: https://www.gov.uk/government/publications/covid-19-guidance-for-managing-playgrounds-and-outdoor-gyms/covid-19-guidance-for-managing-playgrounds-and-outdoor-gyms
Normal public opening hours
Please note that Town Council remains open and functioning, however if you require to see the Clerk in person members of the public and Councillors are asked to make an appointment so that safe measures can be put into place around social distancing. Public opening hours are between 12noon and 4pm Tuesdays and Thursdays by appointment.
The Clerk is still available by phone or email for any enquiries or concerns.
If you are in need of any support or know of anyone who is please do get in touch so assistance can be sought at this time.
Tel: 01652 648978 or 07518 284173
E-mail: enquiries@kirtoninlindseytowncouncil.gov.uk
Contact Details
Town Clerk, Burial Clerk & Responsible Financial Officer - Neil Taylor-Matson
The Town Council Office, Town Hall, High Street, Kirton in Lindsey, DN21 4LZ
///yummy.envisage.kinks www.what3words.com
Telephone: 01652 648978 Mobile: 07518 284173
Clerk's e-mail: enquiries@kirtoninlindseytowncouncil.gov.uk
Kirton in Lindsey Scarecrows 2020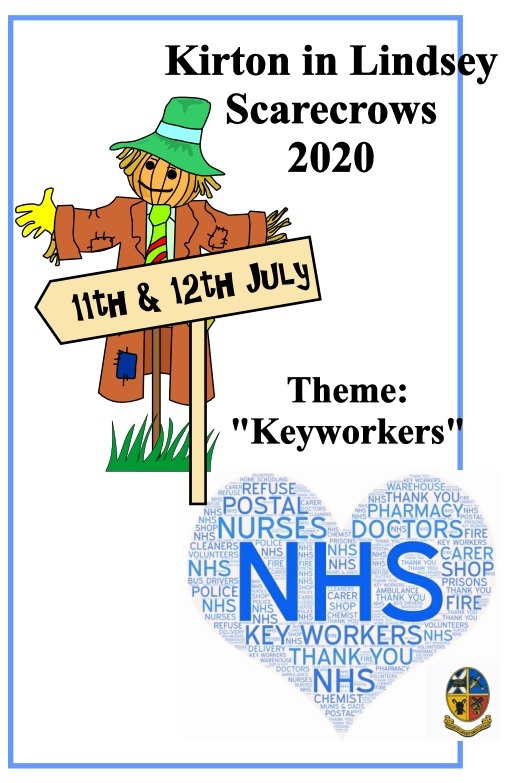 Theme: "Keyworkers"
The display is another opportunity for the community to come together and which everyone can enjoy taking part in by designing scarecrows and seeing them on display around the town.
Copies of the location map are available by selecting here.
All scarecrows should be displayed across Saturday 11th and Sunday 12th July, however they can be displayed throughout July.
Collect the letters from each scarecrow location and solve the anagram to discover a phrase relating to our theme!

Share your photos at @kirtoninlindseytowncouncil on Facebook

Remember to follow to walk the trail safely - remember social distancing and take care when crossing roads.

Be respectful when seeking out scarecrows and don't go onto property or into gardens without permission.

Please do not touch the scarecrows.
If you have a business and would be happy to have copies of the location map available for people please contact the Town Council and arrangements can be made.
Next Meetings
Schedule of Meetings 2019/2020
Full Council Meetings
An Extraordinary Council Meeting will be held on Wednesday 22nd July 2020 virtually via PowWowNow at 7pm.
The Agenda and supporting documentation will be published on Thursday 16th July 2020.
The meeting will be open to members of the public to join with details of how to do so available from the Clerk.
Committees
The next Promoting Kirton Committee Meeting is to be confirmed. Previous schedules are suspended until further notice.
The next General Purposes Committee Meeting is to be confirmed. Previous schedules are suspended until further notice.
The next Personnel and Disciplinary Committee Meeting is to be confirmed. Previous schedules are suspended until further notice.
CORONAVIRUS / COVID-19 INFORMATION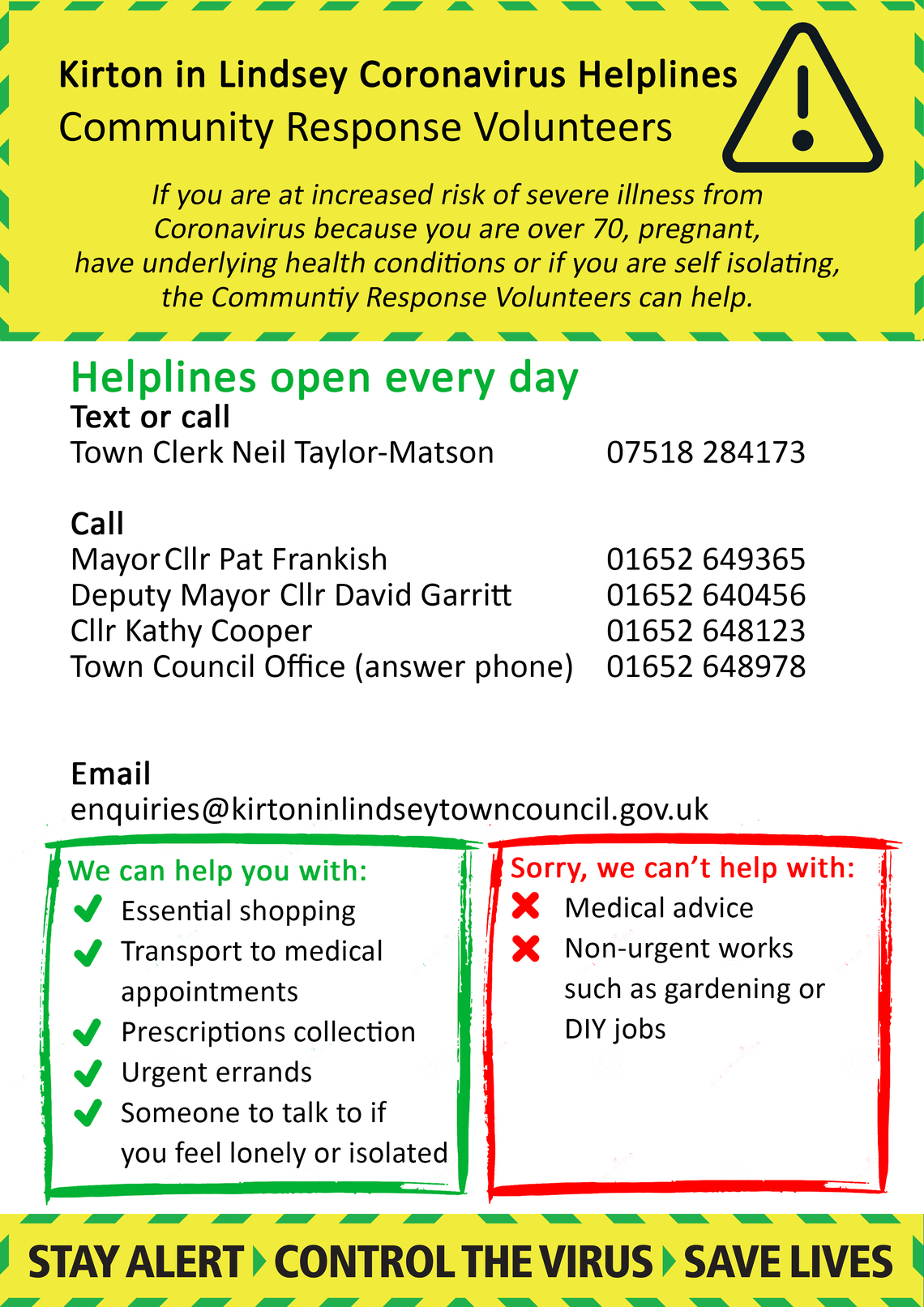 News and information
Newsletter

A brief update on news and activities from the Town Council
Town Councillor Vacancy
Following the resignation of Cllr Tony Kitchen in February, there is a vacancy for a Town Councillor on Kirton in Lindsey Town Council. Following the publication of notice on 28th February 2020 the Town Council can now look to fill the vacancy by co-option. Local councils give communities a voice and are democratically accountable to the community. Are passionate about Kirton in Lindsey? Would you like to make a difference in the local community and offer your skills and experience? Do you enjoy being part of team? If you are interested in becoming a Town Councillor, or would like further information please contact the Town Clerk.